NIOH 2 Character Customize [reproduction]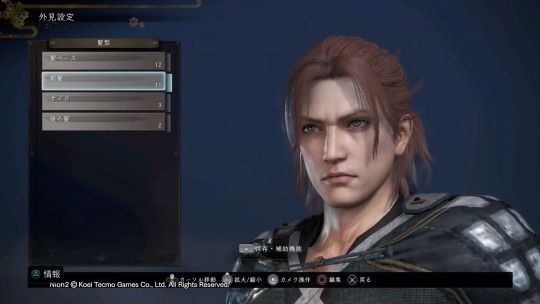 I've been spending a lot of time at home because of the COVID-17, so lately I've been playing different games than usual.
Koei Tecmo's NIOH 2 had a character customization feature. The bases are narrowed down, but each part can be configured in quite a bit of detail.
I try making Lindow.
It's a little surprising because it's so photorealistic.
I haven't tried it on Soma because not have the right hairstyle for him, if there were V-shaped bangs in the Muromachi period… LOL.
The game itself is still hard to get used to, so I don't know… it's more like Code Vein than SEKIRO, but it's a bit of a hassle to have to learn new rules and techniques again.
The NPCs is modeled after famous Japanese actor, which is one of the reasons why I'm not really interested in them,  I'd prefer the NPCs are have to good voice and looking.